Professional Company Formation in Dubai
Allow us to take care of the details while you forge a path to success. 
We don't just take care of your business, we take care of you, too. We go beyond IFZA company formation and ensure you get your visa,
health insurance, and bank accounts, and help you find a property that suits your needs and investment goals.
Why choose Global Success Consulting for company formation in Dubai?
Many entrepreneurs come to us after first thinking about setting up their businesses themselves. While it is possible, it's not easy, and many make time-consuming mistakes. Here's why they chose to work with us:
We're wealth strategists at heart, and so we'll advise you on the best ways to set up your company (and your life) here in Dubai to help you reach your financial goals. 
4. We know your time is worth more
You outsource other areas of your life, so why get bogged down ticking boxes when you should be making high-level decisions? We'll take care of everything we can and ensure you take the fastest path for what we can't.
With our guidance, we'll take you through the entire immigration process in 5-12 days. You won't waste time making mistakes or wondering what your next step should be; we'll show you the way. 
Starting a business in a Dubai Free Zone requires liaising with the government and choosing the right business activity from a list of thousands – and the wrong choice can cause you difficulty down the road. We'll make sure you get things right the first time. 
Starting a business in a Dubai Free Zone doesn't have to be challenging
No matter where you are in the world, we can assist you in making a home here in Dubai. With Dubai's beneficial tax rates, high quality of life, and fertile business environment, you'll join thousands of expatriates enjoying all Dubai has to offer. 
Spend your days growing your business, your nights enjoying the incredible eateries, and your weekends on the water. There are no restrictions on transferring money to your home country and Dubai benefits from direct flights all over the world. With our help, this lifestyle will be yours in just a matter of weeks.
Who are we? Finance Consultant & Wealth Strategist
Our Dubai company formation services were born out of a desire to help our global wealth strategy clients get the most from their money. Dubai offers one of the most beneficial tax structures in the world without compromising on quality of life.
The global economic landscape is unstable, yet Dubai offers significant tax benefits and an optimistic future. If you, like so many others, believe your future is best built by starting a business in a Dubai Free Zone and moving to Dubai, Global Success Consulting is here to facilitate your move.
From Dubai company formation to opening a bank account and finding valuable real estate, we're here to guide you.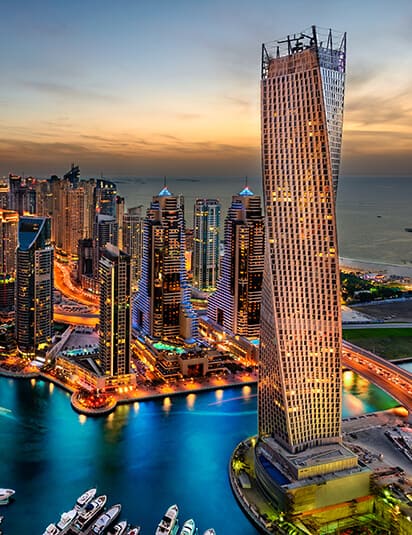 FREEZONE
Free Zones allow foreign entrepreneurs to set up a company within the UAE
You retain 100% ownership of your company (no Emarati national needed as a shareholder)
You cannot do business with the UAE market directly
Free zones have benefits for specific industries (there are 45+ zones)
Allows you to apply for a residential visa
Straightforward to apply for and cost-effective ou retain 100% ownership of your company (no Emarati national needed as a shareholder)
Most free zones have shared office spaces you can use
Some free zones have minimum capital requirements (but not all)
MAINLAND
You cannot own more than 49% of your business – the remaining 51% must be owned by Emirati shareholders
You need to be licensed by the Department of Economic Development of the emirate you're in
You can do business with the UAE market directly (unrestricted)
You must have office space
No minimum capital requirement
Allows you to get a residential visa
OFFSHORE
Best for those not looking to immigrate to UAE
Your parent company isn't in the UAE
Cannot trade with UAE market directly
Still get tax-free benefits
Benefit from asset protection
Only suitable for accounts of $500,000 – $1M (USD)
Not sure which is right for your business and financial goals? Don't hesitate to reach out - we'll be glad to advise you.
How do your company formation services work?

1. Contact us
Your first step is to reach out to us to let us know about your goals and needs. We can also advise you on your best options and answer any questions you have about company set up in Dubai or moving to Dubai. When you're ready to move forward, we can start the process.

2. Document preparation + business license
With you on your way to Dubai (for Free Zone and Mainland company formation), we'll start preparing your documentation. There is a lot of paperwork to be done and choices to be made, but we'll do the hard work for you. We'll advise you on the right business license for your business and help you apply.

3. Get your visa + bank accounts
Once you have your business license, you can apply for your residential visa. Again, this requires some paperwork and a medical, but the process can be painless with our help. At this stage, we'll also help you open necessary bank accounts, which can be tricky without our guidance.

4. Start your life in the UAE
With all the legalities taken care of, you can start your life here in the UAE. If we haven't yet, we can help you find suitable health insurance, a vehicle, and advise you on your real estate choices. You can now sponsor the visas of your family members and employees.
Learn More About Starting a Business in the UAE
Not ready to take action just yet? No problem - we'll be here when you're ready. Our blog is full of resources to help you learn everything you need to know to move and/or start a business in the UAE.